Sheboygan Stores Featured Beer
January Beer of the Month
Mob Craft Brewery -Milwaukee WI
MOBCRAFT IS THE WORLD'S FIRST COMPLETELY CROWDSOURCED BREWERY!
This is us and we love beer! Mob Craft was dreamt up in mid 2012 while in a business incubator in Whitewater Wisconsin. Henry, Giotto and Andrew's twin brother went to college together and started home brewing in their free

Vanilla Wafer Porter
Rich Porter with notes of cocoa and a strong vanilla wafer finish. 
BatShit Crazy, Brown Ale – English, 5.6% ABV
MobCraft Beer. Batshit Crazy is a Coffee Brown Ale. Balanced milk sugar sweetness gives way to robust coffee flavors, sure to drive you Batshit Crazy!
---
Bell's Brewery
Hopslam Ale Double IPA is Here!
Starting with six different hop varietals added to the brew kettle & culminating with a massive dry-hop addition of Simcoe hops, Bell's Hopslam Ale possesses the most complex hopping schedule in the Bell's repertoire. Selected specifically because of their aromatic qualities, these Pacific Northwest varieties contribute a pungent blend of grapefruit, stone fruit and floral notes. A generous malt bill and a solid dollop of honey provide just enough body to keep the balance in check, resulting in a remarkably drinkable rendition of the Double India Pale Ale style.
Limited Supply!
---
 Craft Beer 12Pack Sampler or Variety Pack!
Blue Moon Variety Pack
Leinenkugel's Explorer Pack
Hinterland Adventure Pack
New Glarus Sampler Pack

---
 Winter Beers Arriving Daily!
---
Point Brewing Seasonal
Snow Pilot 
Point Snow Pilot is handcrafted using a blend of victory malt, caramel malt, palisade hops and savory crushed pistachio nuts. The flavor of this delectable brew will help you navigate through the chilly months of the season. Treat yourself – be your own Snow Pilot.
---
Coors Banquet or Light

---
New Glarus Brewing
 Cabin Fever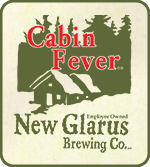 A Wisconsin Style Honey Bock, easy going and more approachable than its traditional dark German cousin. Bock beers have existed in Wisconsin for over 150 years. This pale bock is brewed with an exclusive blend of Wisconsin two row barley that balances seamlessly with our special European hops. Naturally sweet Clover Honey was added in the kettle accenting warm flavor notes on your tongue.
---
          
BatShit Crazy, Brown Ale – English, 5.6% ABV
MobCraft Beer. Batshit Crazy is a Coffee Brown Ale. Balanced milk sugar sweetness gives way to robust coffee flavors, sure to drive you Batshit Crazy!
---
3 Sheeps Brewing in cans!
* Waterslides IPA-Waterslides IPA is the beer that helped make 3 Sheeps what it is. With more body than a typical IPA, its hoppy, citrusy and very drinkable.
*Pils-3 Sheeps Pils is an easy drinking, refreshing, crisp German style pilsner with just enough cascade hops added to make it flavorful and interesting without being bitter. This is a beer from Wisconsin, brewed for Wisconsin.
*Fresh Coast Pale Ale-Fresh Coast Pale Ale can only be described as liquid happiness. It is an east coast-style pale ale, meaning that it pours hazy, juicy and delicious. With citrus and tropical fruit notes as well as a low ABV, its the kind of beer you can enjoy all day, and will definitely want to.
---
 Maui Brewing
BIKINI BLONDE LAGER A clean, crisp & refreshing Helles, perfect any time.
COCONUT HIWA PORTER A robust dark ale with hand-toasted coconut & hints of mocha.
---
MIX AND MATCH SIX PACK
Choose from a wide variety of craft beers to make your own six pack.
$8.99 each
---
Wisconsin Brewing Company
Badger Club Amber 6pkNR
ITS TIME TO SKIP THE COMPLICATED BEER MENU AND GRAB SOMETHING SIMPLE THAT CAN BE SAVORED TIME AND TIME AGAIN. BADGER CLUB AMBER IS A PERFECT BLEND OF MUNICH MALT, CARAMEL MALT AND CASCADE HOPS.
PAIRS WITH – PIZZA; GRILLED/ROASTED MEATS; WHITE CHEDDAR, FRUIT DESSERTS AND THE END OF A LONG DAY.
---
One Barrel Brewing Madison, WI
Commuter Kolsch
4.8% ABV – 22 IBU This is very true to the style that originated in Koln (Cologne), Germany. Our Kolsch is unfiltered and cold-conditioned. The result is a beer that is clean and refreshing, with a crisp finish. It is agreeable without being boring; the beer lover's session ale.
Penguin Pale Ale
5.7 % ABV – 40 IBU –
A good example of the American twist on the English classic. It is more of a deep copper than pale gold, as is common for the style, and has a unique malt profile due in large part to the addition of 20% American Wheat Malt. A strong American hop structure provides an enticing aroma of tangerine and grapefruit and smooth finish that will keep you coming back for more.
Banjo Cat Black IPA
6.2 % ABV – 69 IBU – This beer is black in color but very smooth and does not have a bitter malt flavor found in many stouts and porters. It is aggressively hopped, including a dry hop addition that gives Banjo Cat a strong citrus aroma and vibrant flavor resulting in a well-balanced black ale
---
City Lights Brewing Co
Amber Ale- 

If the hops and malt of this Amber Ale were on either end of a see-saw; it would sit at a standstill parallel with the ground. With a blend of German Tradition hops and American Willamette hops, there is just enough hop bitterness, flavor, and aroma to make keep your nose and taste buds wanting more. A combination of 5 different malts give this beer a hint of caramel sweetness, a splash of breadiness, and just the right amount of character to make this simple style wanting your taste buds to do The Waltz.
Brown Ale- 

A beautiful floral aroma and silky mouthfeel from New World hops and delicate fruitiness of this Old World style set the tone for this delightful Brown Ale. The skillful blend of malt body and sweetness from caramel and crystal malts are offset by the expected hop bitterness from Nugget hops. A fresh, baguette aroma layered with chocolate notes delight the nose while sipping. Carbonated just enough for a smooth experience this is indeed a wise and eminently drinkable choice. 
Session IPA- 

In a sense, the Session IPA is the standard IPA's little brother. Packed with just as much hop aroma and flavor; but slightly less body and alcohol content so you can enjoy a few more without falling off your barstool when you get up. With Centennial, Cascade, and El Dorado hops, ringing in at 50 IBUs with many late addition hops and a healthy dose of dry hops; this beer is sure to please the hop heads. With a touch of caramel and victory malt, there is just enough malt backbone to balance out the hops in this beer. At 4.5% ABV this beer is true to its name and is quite sessionable.
IPA- 

Centennial. Cascade. Citra. Amarillo. This American-style IPA is defined by citrus-forward hoppiness with a delightful aroma. At just over 7% ABV, intermingling flavors permeate the senses and provide a lingering and caressing mouthfeel. At circa 75 IBUs; hop additions are artfully balanced with many late additions to offer a beautiful aroma and hop forward flavor that is just right. Hops are balanced with an elegant use of 6 different specialty malts to masterfully round out the beer.
---
M
ob Craft Existence Sour Beer
Existence is a series derived from our barrel aged Belgian-Style Sour Ale conditioned with wild yeast, souring bacteria and fruit. After Existence aged in barrels for many months, they selected barrels to referment with various fruits. Each portion of beer sat on its respective fruit until it developed the flavor characteristics desired. Once happy with the individual barrels, the beer was transferred off of the fruit and into a blending tank. Fresh yeast and a little extra sugar were added to prep the beer for bottle conditioning.
The final product is very tart with strong vanilla/oak characteristics and, if it is one of the fruited varieties, it has nice aroma and sweetness from the fruit.  All three of the fruited varieties have very unique characteristics from the different fruits used. Existence is the first sour beer bottled in our new Milwaukee brewery.
3 different flavors available
- Original
- Raspberry
- Cranberry
---
Half Acre Beer Company
DAISY CUTTER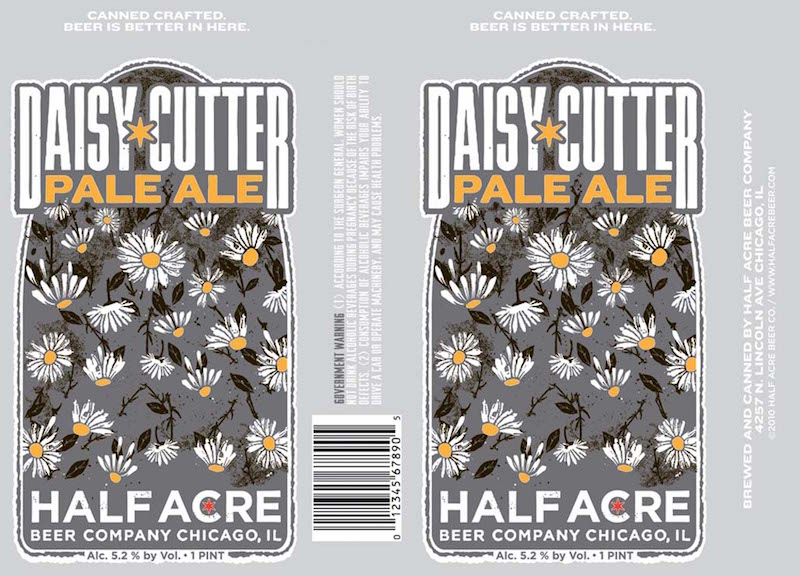 Daisy Cutter Pale Ale is one of the first beers  brewed at their brewery on Lincoln Ave.  It began as a special release bomber beer, but caught fire both in and outside the brewery.
At the time, 2009, there were some local pale ales that hit with natural power, but not many.  Daisy Cutter's lush and dank characteristics steadily carved out a place within the Chicago brewing landscape.
Blended pine, citrus, papaya and mango. Dank. Apparent biscuit, lingering, obscenely dry.
5.2% ABV
---
The Fermentorium Brewery from Cedarburg Wisconsin!
 
Located just outside of Cedarburg at the Five Corners on Highway 60 next to Cedar Crest Ice Cream. The Fermentorium opened its doors early in 2016. Currently offering ten beers on tap with plans to expand, the brewery also distributes to restaurants and bars all over Southeastern Wisconsin.
TRY ANY OF THESE FLAVORS TODAY
Juice Packet
Fou D'amour
Stone Hearth
Divine Sanctuary
---
NEW GLARUS BREWING CO.
Spotted Cow and Moon Man now available in 12 oz cans.
ONLY $14.59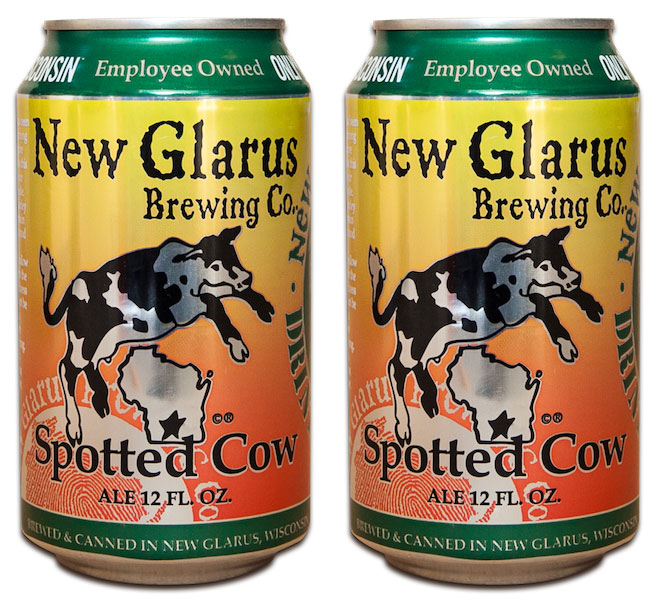 ---
Milwaukee Brewing Company
Milwaukee Brewing Company is a Craft Brewery located in downtown Milwaukee, Wisconsin.
Milwaukee Brewing Company was founded on principles of crafting and creating beers using the best local ingredient and suppliers in a sustainable, creative and innovative environment.
---
 KARBEN4- Madison, Wi
"We don't have time for any tomfoolery. Beer is serious business and we take it super seriously."
 Fantasy Factory
Dragon Flute
Lady Luck
Night Call
Tokyo Sauna
---
Shorts Brewing Company – Huma Lupa Licious
It is Short's best-selling India Pale Ale. Huma Lupa Licious is brewed with five different hop varieties, providing a punch to the palate. Between the beer's abundance of hops, and the type of hops used in its creation, it has a delicious bitter taste and enticing citrus aroma. The hearty malt bill melds well with the hops for a perfect balance.
---
Kul Beer
If you're looking for an alternative to all the light beers out there – look no further, KüL Light is your beer. Brewed with pure artesian spring water, barley, hops and yeast. Using select ingredients and staying true to a brewing heritage that dates back to the late 19th century, the flavor of KüL Light will impress you – it is a refreshing yet flavorful beer that is breezy and light bodied.
KüL Light's alcohol content and calories are per 12oz serving, or one delightful can.
• 110 Calories • 7.0 IBU • 4.0% ABV
 Only  $1.49  4pk  12oz can
---